Post or Page Title
Services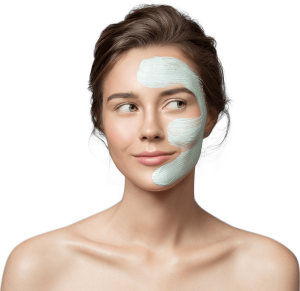 Post or Page Title
Services
What We Can Do For You
All our services are carried out by a qualified therapist in the privacy of our clinical yet relaxing treatment rooms. You will not have to share space with anyone.
Our therapists with over 20 years' experience, will make you feel super relaxed and comfortable throughout every treatment. Your modesty and comfort are paramount to us.
We are certain you are going to find a list of things you will love to try. Sit back, grab a cuppa and browse through our popular treatments.
Click here to download our price list.
Help us a build a successful future at Natural Beauty by sending our menu on to your family & friends.
Amazing skin is possible when you know how! There is no need to hide behind makeup to cover your skin nightmares.
As Brand Ambassadors for Alumier md skin care we use products that are key to helping you achieve confidence in how you look. Each of our skin specialists have over 15 years' experience in successfully treating many skin concerns having undergone extensive training with cosmeceutical brands including Alumier.
Each Alumier product has a unique complex of medical grade ingredients. Within the range we can customise your treatments to target specific skin concerns such as Acne, Rosacea, Ageing and Pigmentation. Each treatment begins with a deep cleanse to prepare your skin for one of Alumier's exfoliating peel treatments, prescribed for you by one of our skin specialists. To complete your treatment, we will apply several prescriptive serums to feed, hydrate and protect your skin leaving it feeling beautifully soft, bright, hydrated and nourished.
Alumier customised skin peels

£85

Our skin specialists will customise the peel options to treat your specific skin issues like acne, rosacea, dryness, wrinkles, congestion and pigmentation Included in this treatment is a FREE post peel home care product pack worth £32.00.

Alumier Enzymatic Peel

£61

Ideal treatment to maintain results or in preparation to a special event where you want to look Amazing!
These clinical treatments can be carried out in the middle of your day without worrying about how you are going to look afterwards. However, if you prefer we can apply a fine layer of mineral makeup at the end of your skin treatment at no extra cost. Please ask your skin specialist at the beginning of your treatment.
Relax & Chill Facials
Floating Facial & Back Massage

£75.00

OMG!!!…….. This is the ultimate, and our most popular Stress busting treatment. Whilst lying on a giant cushion filled with warm water, we will give you a prescriptive Facial PLUS a deep tissue back, neck & shoulder massage. You will Literally float away into tranquillity. (90 mins)

Prescription Facial

£60.00

Give a little self love every month with this traditional Facial. Not just a cleanse and exfoliation treatment, we will also tackle your stress & anxiety with a deeply relaxing face, neck, shoulder and scalp or foot massage. (60 mins)

DoTerra Aroma Facial (vegan loving)

£45.00

DoTerra is the worlds only certified pure therapeutic grade essential oils and oil infused skin care. If you need some time out and kindness, this is the perfect choice of facial. (45 mins)

Makeup application after any facial

Extra £7.00
Being mindful of yourself can be difficult with hectic schedules, commuting, careers, family and not to mention living in the age of social media. Sleep is becoming less of a priority for us which can often lead to stress, anxiety and low mood. This can often lead to stress, anxiety and low mood.
Taking time out is not an indulgence nor should you justify or feel guilty for it! It should simply just be a part of "you" and what "you" do.
Aromatherapy Massage
Aromatherapy treats both the mind and body. A carefully selected blend of essential oils and a special type of massage technique, together create a beautiful experience to relieve the body and mind of both physical and emotional strain. This relaxing massage will improve blood flow and lymphatic drainage to ease tension and aching muscles, it will also help to regulate breathing and induce relaxation. The effects can last up to 12 hours after treatment. Choose from:
Back, neck & shoulders

£39.00

Full body inc scalp, feet & hands

£60.00
Doterra Symphony of Cells Treatment

£60.00

Using only DoTerra Certified pure therapeutic grade essential oils. A full wellness consult will outline a specific protocol followed by an application of oils using a multi oil layering technique to treat the symptoms of many health concerns such as stress, anxiety, depression and lethargy.
Pain relief of arthritis, aching muscles & joints. low immunity and recurring coughs, colds and respiratory issues. Digestive upsets and painful spasms. This oil layering treatment also includes a relaxing face, neck and foot massage. (For first time appointments or if a period of 12 weeks have lapsed, Please arrive 15 mins prior to appointment time to complete a consultation questionnaire)

This luxury treatment begins with a wonderful full body salt & oil scrub to remove dead skin cells from the surface followed with hot towels and a warm oil application before being enveloped in a dead sea mud wrap to purify and hydrate the new skin layers. During the envelopment your therapist will give you a relaxing facial with scalp or foot massage. (90 mins)

Invigorating salt & oil scrub

£38.00

Ideal for pre or post holiday prep, the removal of stubborn tanning products or just because it smells amazing and leaves your skin feeling fantastic! Using DoTerra vegan loving products we will prep your skin with some body brushing to get your circulation tingling then slough away the dead skin with a luscious salt & oil scrub before massaging a generous application of doTerra moisture balm onto your glowing skin.
We only use hybrid Gel Polish brands like Shellac and CND Creative Play for the best in not only colour choices but for a long lasting glossy shine.
In our opinion, a 'Gel Polish" manicure is a far healthier option for your nails and doesn't cause damage in the way that artificial structures may cause. We are all about a healthy, yet beautiful manicure here at Natural Beauty. Don't forget your feet! We do a great pedicure here too that will make you very proud to get your toes out!
Gel Polish Manicure

£36.00

Classic manicure with hand massage & nail strengthener

£32.00

Gel Polish Pedicure

£46.00

Includes salt scrub & massage

Deluxe paraffin wax Pedicure with gel polish

£57.00

Gel Polish Mini Mani & Pedi

£62.00

Gel soak off & mini Mani or Pedi with Nail strengthener

£25.00

Nail art, glitters and powder effects – Single Nail

£1.00

Nail art, glitters and powder effects – Full Set

£8.00
Perfect Brows & Lashes are a must for adding definition to your facial features!
We pride ourselves on creating a neat, defined yet natural looking eyebrow that will open up and frame your eyes for an every day look or for a glamorous occasion.
To compliment our amazing defined eyebrows, we can also add glamour to your lashes with an instant lash lift or for more length and volume you can have semi permanent lash extensions. If you simply just need some strip or party lashes for an impromptu occasion then we've got that covered on our menu too
Complete lash & brow package

£40.00

Includes: lash & brow tint and brow shaping
Set of classic look Lashes

£60.00

Throw away the old eyelash curler contraption and go for this NEW modern semi permanent lash lift that will lift, separate and curl your own gorgeous lashes.
Why us? Why are we the best? because our expert therapists have over 20 years experience in waxing so your in safe hands! No need to feel awkward or embarrassed, we will respectfully make you feel relaxed and comfortable throughout this treatment.
What's involved in intimate waxing ?
After consultation, you will be given a hygiene wipe to freshen up with and a pair of disposable paper pants to wear during the treatment. Throughout, you will be kept covered with only one small area at a time being uncovered.
On completion of the treatment, you will receive a post wax home-care pack to ensure you care for this delicate and sensitive area.
All our products are disposable and we use peelable organic wax for comfort and care.
Buttock & lower back

from £25.00
We have a range of male grooming treatments to enhance you in looks, confidence and comfort.
Working in collaboration with Pele Hairdressing and LM Therapies sports & remedial massage, we offer the full male package in how to look sharp, groomed and physically in shape.
Gents manicure with cuticle trimming, oil & buffing

£24.00

Gents Pedicure with foot massage

£30.00
A 60 minute treatment to cleanse, exfoliate, refine pores and hydrate the skin. During a mask application, an aromatherapy blend of oils will be used to massage and relax the neck & shoulders.

Special occasion package

£100

Eyebrow tidy, manicure, mini facial & relaxing back massage
Cut & Finish

from £20 – £32

Beard trim

from £10 – £15

Beard trim & tint

from £20 – £25

To even out colour or cover grey
Electrolysis is the only medically approved method of permanent hair removal.
Having over 25 years experience in treating people with unwanted facial hair, we know how distressing it can be and how it can destroy your confidence but there is no need to suffer with this any more – electrolysis can be life changing! .
Consultation are private and FREE of charge. During the consultation we will check suitability, discuss your needs and carry out a practical assessment of the area being treated to assess hair type and develop a treatment plan to suit your needs.
WE ONLY USE STERILE DISPOSABLE PROBES.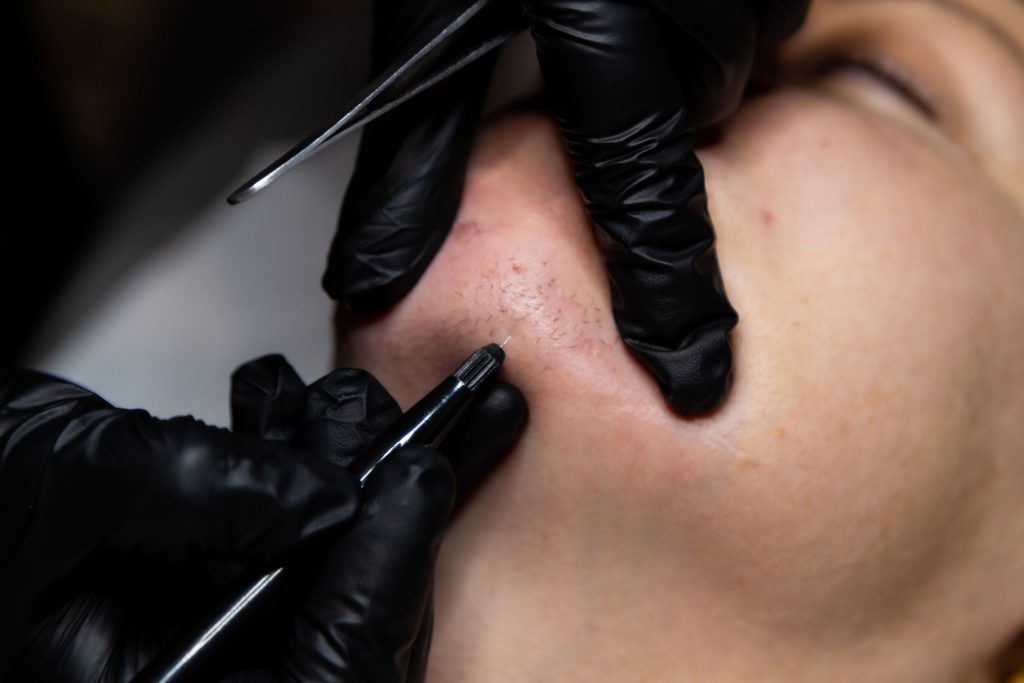 Facial & unwanted hair removal
Advanced Electrolysis
Advanced treatment for the removal of benign fibrous and vascular blemishes such as skin tags, thread veins, blood spots and whiteheads (milia).
Electrolysis is a quick and safe method of removing certain unwanted blemishes. Most areas will only require one treatment however the price will include a follow up appointment to check and assess the treated area within two weeks of initial treatment.
1st appointment up to 15 mins

£45.00

Additional 15 minute follow up session

£25.00
Caflon Ear Piercing
Caflon is UK manufactured and the most widely recognised ear piercing system in the world. Our trained staff will carry out the treatment in a safe sterile environment. Price includes a choice of stud earrings plus a special cleanse & care home care pack. All children 16 years or under must be accompanied with an adult, parent or guardian.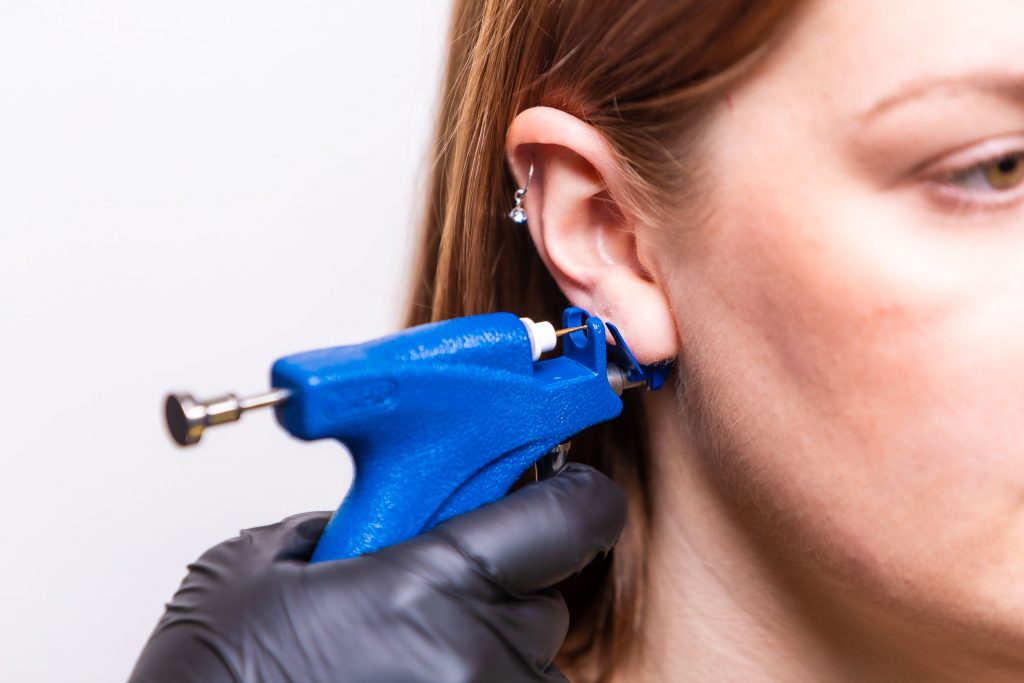 Caflon Ear Piercing

£45.00
For over 25 years we have specialised in bridal make up. Having trained with Bare Escentuals and their team of London Make up artists, we aim to create the perfect flawless look to compliment your beautiful day and capture your very own Natural Beauty.
For your special occasion
Glamour evening make up with strip lashes

£50.00

Classic Evening look

£42.00

Mini Facial & Make Up

£67.00
Spray Tanning
Don't you just look amazing with a tan! Let's face it, a tan can really create a perfect base for your make up to look fantastic and it seems to make the "peely wally" wobbly bits look pretty good too, yet such a faff to do yourself. Well now you don't need to!
For over the last twenty years we have been spraying tanning the gals of Glasgow to look like they have just returned form an exotic holiday. We have tried all different brands over the years, but keep returning to our favourite St Tropez for a first class tan. St Tropez offer a classic natural tan, a deep golden tan and an express tan for those who need to wash off after a few hours.